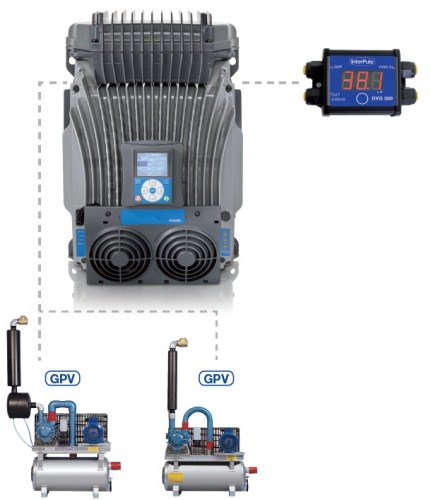 The new
iDrive100
makes it possible to modulate the speed of the vacuum pump, thus reducing consumption, noise and maintenance costs and enduring maximum stability of vacuum levels during milking.
Advantages:
Lower consumption
Maximum vacuum stability
Minimum noise
New design and multi-function display
Vacuum pumps less subject to wear
Rapid return on investment
Easy to install and to gauge
Fits to vane, lobe or liquid ring pumps
Characteristics:
iDrive100
can govern one or more parallel or cascade pumps
The new "
Milk+
" software, in synergy with the reliable sensor
,
guaranteed a swifter response, as well as improved vacuum stability, thus making it easier to regulate the useful reserve in accordance with the real demands of the system. This means less waste and less noise in the milking parlour!
iDrive100
can be operated with or without vacuum regulator
The sensor is able to pick up fluctuations of 0.1kPa, ensuring timely intervention on the frequency variator and thus guaranteeing maximum vacuum stability, even when more than one milking cluster is dropped at the same time.
The pre-set parameters guarantee excellent reactivity; the progressive acceleration of the motor is able to avoid pressure fluctuations typically produced when more than one auxiliary pump is set in motion at the same time. The setting of the parameters can, however, be modified to meet the demands of the system.
iDrive100
can rapidly be programmed "on site" using the convenient mini-keyboard, or by connecting it to a PC, or using an Ethernet cable to ensure functioning is monitored constantly during the set-up and milking phases.
The multi-function display makes it possible to view up to 9 parameters at the same time.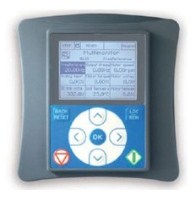 During the washing process, it is possible to set a higher vacuum level than during milking, increasing turbulence and therefore cleaning the inside of the tubes more effectively.
Monitoring of motor temperature.
New "winged" design for improved heat dispersion
"Start&Stop"
system for optimising the functioning of the cooling fan
Lower consumption thanks to the extra-low energy consumption components.
General switch can be mounted directly on the inverter
Relays can be installed inside the inverters for controlling the auxiliary pumps